Since BetUS was founded in 1994, the company has grown into a massive operation with over 1,000 employees and 24/7 live customer support. They also offer a strong selection of sports betting markets and particularly generous bonuses. But it should be noted that BetUS is an offshore sportsbook, which can make payouts difficult if you're not willing to accept cryptocurrency. Below, we'll review everything else you need to know about this online sportsbook provider.
How We Reviewed BetUS
There are many factors to consider when evaluating a sportsbook operator. In order to come up with our overall score, we reviewed this platform's sports variety, bonuses, banking methods, user interface, customer support, and security features.
How we score sports betting sites
Sports Variety
The best sports betting sites offer a wide variety of sporting events and games to bet on. We looked for sports betting sites that consistently have lots of options.
Score: 4.8
Bonuses and Promos
It's important that bettors understand the terms of the bonuses offered by sports betting sites. We put a premium on sites whose bonuses have clear terms and conditions, and continue to offer promotions after their initial welcome bonus.
Score: 5
Banking Methods
From online banking to cryptocurrency, bettors should be able to make deposits and withdrawals in a way that's convenient for them. We also factor payout speeds into this rating.
Score: 3
User Interface
Making deposits, placing bets, and cashing out should all be easy tasks to accomplish on a sports betting site's desktop and mobile app. We look for a smooth and engaging user experience.
Score: 4.5
Customer Support
Sports betting sites should offer multiple help options to their bettors, whether that's phone support, live chat, or email support. Bettors deserve to be dealing with a real person when issues with betting arise.
Score: 4.4
Security and Safety
Sports betting sites must be licensed with the appropriate regulators. We look for valid licenses and score sports betting sites on how well they protect their bettors' data.
Score: 4.2
Overall Score: 4.32

Pros and cons
BetUS has the same issue as all other offshore sportsbooks — there are limited options for making withdrawals. But there are also a number of advantages to using this platform, including generous bonuses, original video content, and a variety of options for live customer support.
| | |
| --- | --- |
| What We Like | What We Don't Like |
| Thousands of dollars available in bonuses | Limited withdrawal options |
| Original "Picks and Predictions" video content | |
| Phone, live chat, and email options for customer support | |
BetUS's Sportsbook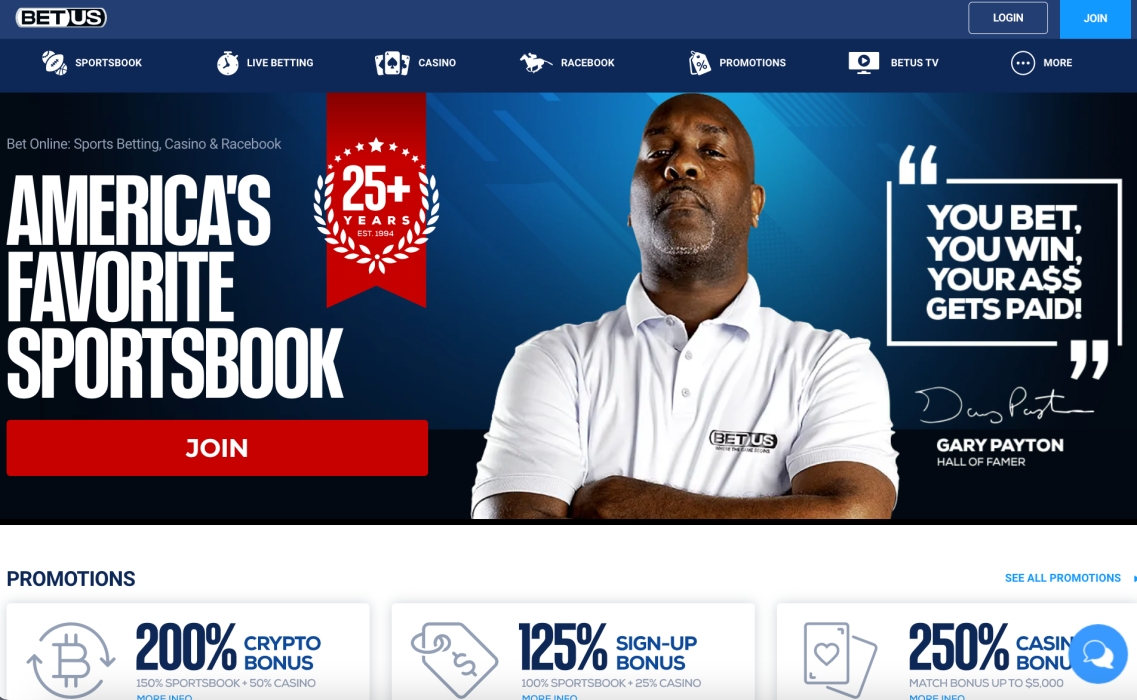 In addition to popular options such as football and basketball, you can also bet on more niche sports such as cricket, cycling, handball, and surfing. Overall, BetUS offers the following sports betting markets:
Baseball
Basketball
Boxing
Cricket
Cycling
Darts
E-Sports
Football
Golf
Handball
Horse Racing
Ice Hockey
Lacrosse
Martial Arts
Motor Sports
NASCAR
Rugby
Soccer
Surfing
Table Tennis
Tennis
Volleyball
Live betting information
Like most online sportsbooks, BetUS allows you to wager on many events while they are still in progress. For optimal performance, BetUS recommends that you clear your browser history and cache before using their platform — this is especially important for live bets, as the odds are constantly changing and you might not be able to take advantage of favorable lines if your browser takes too long to update.
Types of bets available
In addition to providing you with many different sports betting markets, BetUS also offers many different types of bets to choose from. The most common methods for betting on sports are all available, including:
Spread. It's rare for two teams facing each other in a game to be evenly matched — usually there's a favorite and an underdog. This type of wager accounts for that fact by establishing a margin of points (the "spread") that the favorite must win by in order for you to win a bet that was placed on them. And even if the underdog loses, you would win a bet that was placed on them as long as they lost by fewer points than the spread.
Moneyline. In a moneyline wager, if the team you placed a bet on wins the game, you win your bet. But betting on the favorite won't offer much of a return on the amount you risked in the wager. Conversely, you could win many times the amount you risked if you bet on the underdog.
Total. Instead of betting on which team will win the game, this type of bet (also known as an over/under bet) involves betting on how many points will be scored.
Prop. You can also bet on events within a game that aren't tied to the final outcome — this is known as a proposition or "prop" bet. For example, you could bet on which team will have the lead at halftime or whether a particular player will score a certain number of points.
Parlay. This type of wager involves combining multiple selections into a single bet. In order for you to win anything, every selection you make will need to be accurate. This makes parlay bets relatively risky, but they also offer the potential for huge payouts.
Sports betting limits
When you use the online version of this platform, there's a minimum wager limit of $5 and a maximum limit of $5,000. If you'd prefer to call in your bet over the phone, you should keep in mind that the minimum limit is the same, but the maximum limit may vary according to management's discretion.
Bonuses and Promotions
BetUS has some of the most generous bonus promotions in the sports betting industry. If you're planning to initially deposit a few thousand dollars, you should strongly consider choosing this provider over your other options. As of this writing, the following promotions are currently active:
125% Deposit Bonus. BetUS will match 125% of your initial deposit for up to $3,125. You'll receive a 100% match for sports betting, and the remaining 25% match will be dedicated to the casino section of this platform. You must deposit at least $100 to be eligible for this promotion.
300% Referral Bonus. For each person you refer to this platform, BetUS will provide you with a bonus that matches the total of their first three deposits for up to $2,000.
BetUS Banking Options
As with other offshore sportsbooks, you won't be able to transfer payouts directly to your bank account. BetUS does offer a variety of options for making deposits, though. The tables below break down exactly which methods are available and other details you should know about their banking options:
Deposit methods
| | | |
| --- | --- | --- |
| Depositing Method | Minimum Limit | Maximum Limit |
| Visa, Mastercard, American Express | $10 | $2,499 |
| Bitcoin, Bitcoin Cash, Litecoin, Ethereum | $10 | $50,000 |
| Bank Wire, Cash Transfer | Contact support for more information | Contact support for more information |
Payout speeds
| | |
| --- | --- |
| Payout Method | Speed |
| Bitcoin, Bitcoin Cash, Litecoin, Ethereum | 24 to 48 hours |
| Electronic Transfer, Cash Delivery | Contact support for more information |
User Interface
BetUS's design is clean and easy to navigate. Whichever sports betting market you would like to bet on, you should have no problem finding it here.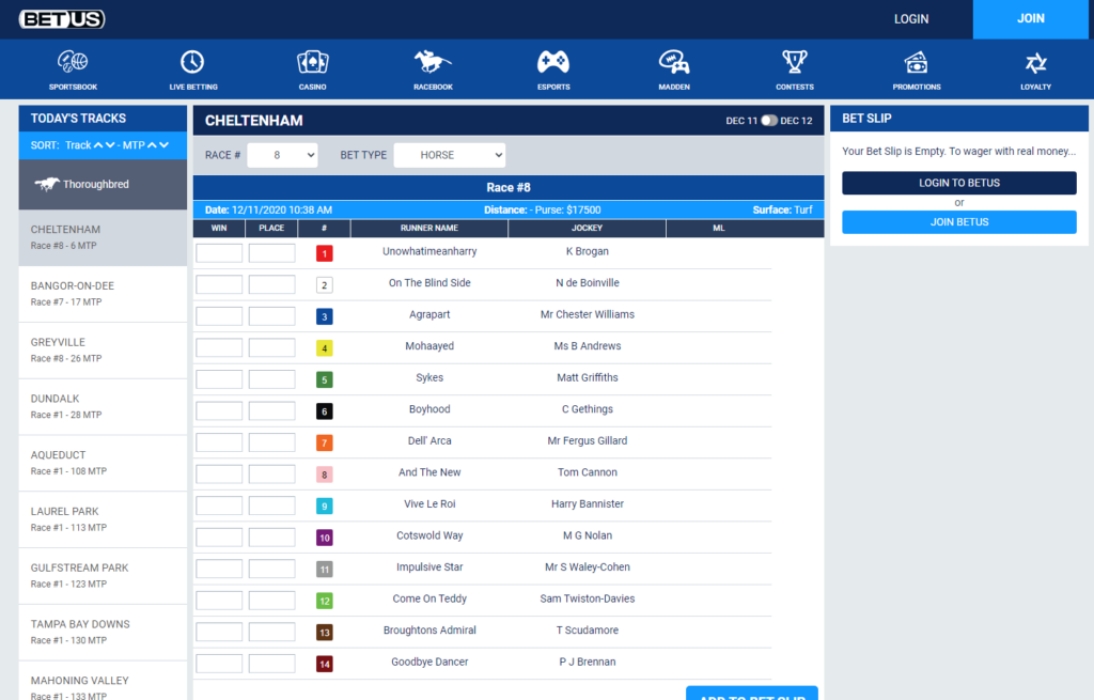 This platform is also notable for the "BetUS TV" section of their site. Unlike most other providers, BetUS produces their own video content, which features experienced bettors making picks and  predictions for popular leagues such as the NFL, NBA, and Premier League soccer. These online shows are an excellent resource for researching your bets.
Customer Support
You can reach BetUS's customer support team for sports wagering at 1-800-941-6261, and a live support chat feature is available on the site as well. If you have a question about account management, you should call 1-800-51BETUS (23887). You can also reach them at [email protected] for inquiries about new accounts.
Security and Safety
As mentioned above, BetUS has over 1,000 employees on their staff — that includes a security team that is solely focused on preventing fraud and keeping the personal information of their users secure.
It's also good to know that BetUS is licensed by Gaming Curacao, a Master License holder that's authorized to provide Curacao gaming sublicenses to online casinos and sportsbooks. This should give you some peace of mind, as it means BetUS is subject to regular compliance audits to ensure there's no foul play in their markets.
States Where BetUS Is Available
BetUS accepts bettors from all 50 states. But as we'll cover below, BetUS operates in a sort of legal gray area when it comes to sports betting in the United States.
Frequently Asked Questions
Technically, offshore sportsbooks like BetUS are not allowed to operate in the United States. But these laws are targeted at operators rather than users, so it's unlikely you will face any legal consequences for using this platform.
+
Is BetUS a legitimate sports betting site?
BetUS has hundreds of thousands of regular users and has been operating for over 25 years. This offshore sportsbook may not be quite as legitimate as U.S.-based operators like FanDuel and BetMGM, but it's earned a reputation over the past couple decades for being secure and reliable.
+
How do I use Free Play on BetUS?
You can earn free play funds on BetUS through promotions such as their 125% Deposit Bonus and 300% Referral Bonus. These funds will be displayed on your betslip, and you'll be able to use them for placing wagers rather than pulling from your account's cash balance.
It should be noted that some restrictions apply to free play funds on BetUS. For example, you can't use them for futures, props, or live betting. There are specific free play restrictions for each sports betting market as well — you can check out BetUS's help center for more information about these restrictions.
+
How do I withdraw funds from BetUS?
Payouts on this platform are handled on a case-by-case basis. You can request a withdrawal through your account, and it should be processed within 48 hours if you use cryptocurrency (BetUS offers Bitcoin, Bitcoin Cash, Litecoin, and Ethereum withdrawal options). If you'd like to use electronic transfer or cash delivery instead, you'll need to contact their support team to arrange the payout.
+
How do I delete a BetUS account?
If you'd like to disable your BetUS account, you'll need to call their support team at 1-800-620-1905 to initiate this process.