BUSR is an offshore sportsbook, which means they offer relatively limited deposit and withdrawal options for U.S.-based bettors. But there are also some significant advantages to using BUSR, such as a helpful prop builder tool and availability in all 50 states. Below, we'll review everything else you need to know about this popular sports betting platform.
How We Reviewed BUSR
There are many factors to consider when evaluating a sportsbook operator. In order to come up with our overall score, we reviewed this platform's sports variety, bonuses, banking methods, user interface, customer support, and security features.
How we score sports betting sites
Sports Variety
The best sports betting sites offer a wide variety of sporting events and games to bet on. We looked for sports betting sites that consistently have lots of options.
Score: 4.5
Bonuses and Promos
It's important that bettors understand the terms of the bonuses offered by sports betting sites. We put a premium on sites whose bonuses have clear terms and conditions, and continue to offer promotions after their initial welcome bonus.
Score: 4.3
Banking Methods
From online banking to cryptocurrency, bettors should be able to make deposits and withdrawals in a way that's convenient for them. We also factor payout speeds into this rating.
Score: 3.5
User Interface
Making deposits, placing bets, and cashing out should all be easy tasks to accomplish on a sports betting site's desktop and mobile app. We look for a smooth and engaging user experience.
Score: 4.4
Customer Support
Sports betting sites should offer multiple help options to their bettors, whether that's phone support, live chat, or email support. Bettors deserve to be dealing with a real person when issues with betting arise.
Score: 4.6
Security and Safety
Sports betting sites must be licensed with the appropriate regulators. We look for valid licenses and score sports betting sites on how well they protect their bettors' data.
Score: 4
Overall Score: 4.22

Pros and cons
As mentioned above, BUSR offers somewhat limited banking options. There are also plenty of advantages associated with using this sportsbook, though — they accept bettors from everywhere in the U.S., their prop builder tool is highly customizable, and they provide you with multiple options for contacting live customer support.
| | |
| --- | --- |
| What We Like | What We Don't Like |
| Available in all 50 states | Limited banking options |
| Highly customizable prop builder tool | Some niche sports betting markets not available |
| Phone and live chat options for customer support | |
BUSR's Sportsbook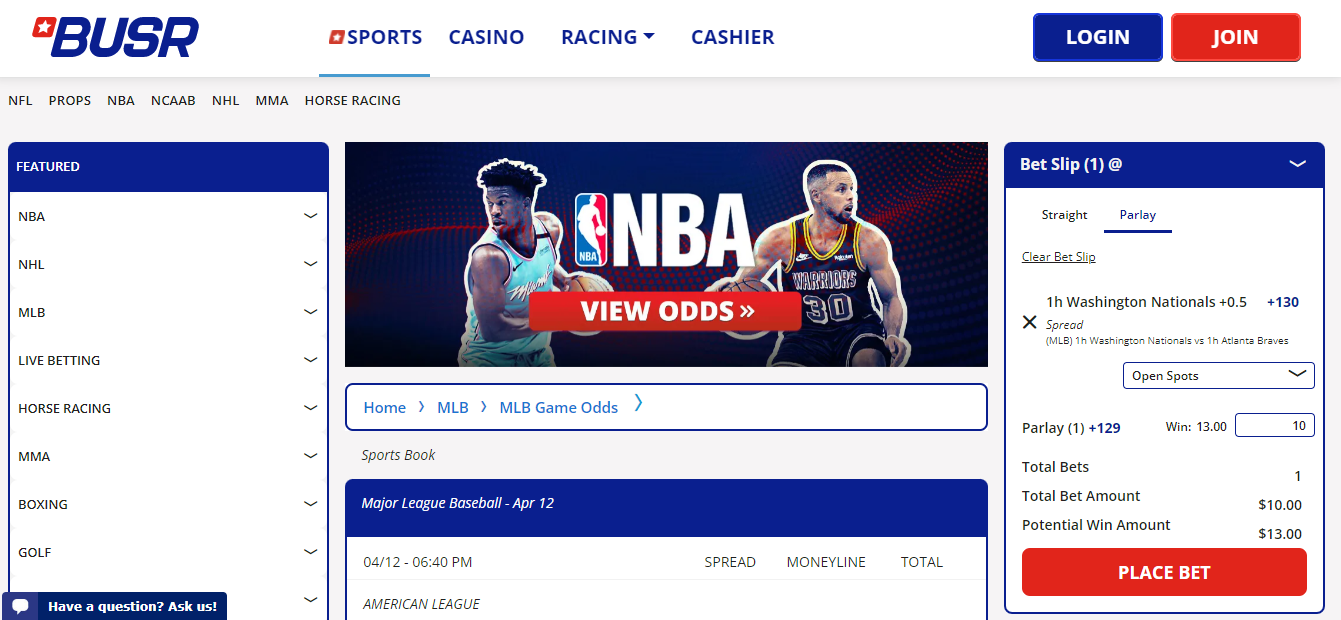 BUSR allows you to place bets on many different types of sports, but it should be noted that some niche options you can find on other platforms (such as volleyball and wrestling) aren't available here. Overall, the following sports betting markets are available on BUSR:
Aussie Rules Football
Baseball
Basketball
Boxing
Cricket
Esports
Football
Golf
Hockey
Horse Racing
MMA
Motor Sports
Rugby
Soccer
Table Tennis
Tennis
Live betting information
As with most online sportsbooks, BUSR allows you to bet on many sporting events while they are still in progress. Don't get too excited if you ever notice any obvious errors in their lines for live betting markets — BUSR reserves the right to cancel bets that are based on such errors, and they will also void any bets they determine were placed after the outcome of an event.
Types of bets available
The most common methods for betting on sports are all available options on BUSR, including:
Spread. Oddsmakers assign a "point spread" to each game, which is the number of points the favorite must win by in order for you to win a bet that was placed on them with this type of wager. Conversely, even if the underdog loses, you would win a bet that was placed on them as long as they lost by fewer points than the spread.
Moneyline. This type of bet uses a different method to account for the fact that most games feature a favorite and an underdog rather than two evenly matched opponents. Indeed, it doesn't matter whether you bet on the favorite or the underdog — if the team you placed a moneyline wager on wins the game, then you win your bet. The only difference is the payout, as betting on the underdog offers you the potential to win much more money than betting on the favorite.
Total. This type of bet (also known as an "over/under") involves betting on how many points will be scored rather than which team will win.
Prop. You can also place bets on events that happen within the game rather than the final outcome — these are known as prop bets. Props are often tied to player performance (e.g., how many points a particular player will score), and there are also props available for more general events (e.g., whether the game will go into overtime).
Parlay. This is an excellent option for bettors who are willing to put up with more risk in exchange for higher payouts. In a parlay bet, you combine multiple selections into a single wager. If even a single selection in your parlay turns out to be inaccurate, then you lose the entire bet. But if everything hits, you could win five times, 10 times, or an even higher multiple of the amount you risked depending on the number of selections involved and the odds of each selection.
Sports betting limits
It should be noted that the maximum payout for any parlay bet placed on BUSR is $100,000. The maximum combined daily winnings for your account is also $100,000.
Bonuses and Promotions
BUSR offers several bonuses to both new and existing users. As of this writing, the following promotions are currently available:
100% First Deposit Bonus. BUSR will match 100% of your initial deposit up to $1,000. You'll need to deposit at least $100 to qualify for this promotion.
20% Reload Bonus. After your initial deposit, BUSR will match 20% of each subsequent deposit up to $500. This promotion also requires a minimum deposit of $100.
250% Referral Bonus.For every person you refer to BUSR, you can earn up to $250 depending on the size of their initial deposit.
BUSR Banking Options
The available deposit methods, withdrawal methods, and transaction limits on BUSR will depend on your location — you can contact their support team to learn more about the banking options for your specific situation.
Deposit methods
| | | |
| --- | --- | --- |
| Depositing Method | Minimum Limit | Maximum Limit |
| Visa, Mastercard, Moneygram, Bank Wire, Person-to-Person Money Transfer | Contact support for more information | Contact support for more information |
Payout speeds
| | |
| --- | --- |
| Payout Method | Speed |
| Bank Wire | 7 to 9 business days |
| E-Check | 12 to 17 business days |
| Bitcoin | 3 business days |
User Interface
From an aesthetic point of view, BUSR just isn't as sleek as the major U.S.-based online sportsbooks like FanDuel and BetMGM. The platform is still fairly user-friendly, though — you should have no problem navigating to your favorite sports betting markets and placing whatever types of bets you would like.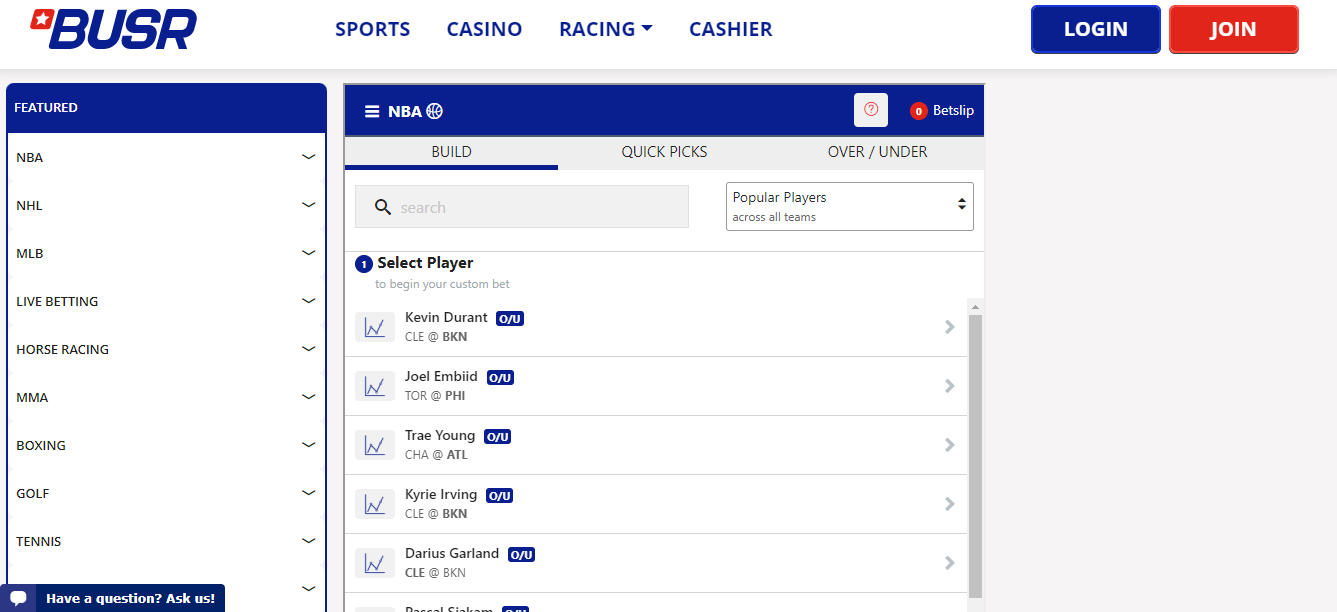 One of this platform's most useful features is the custom prop builder tool, which allows you to set up highly specific game prop parlays, individual player performance props, head-to-head player performance props, and trios.
Customer Support
You can reach BUSR's customer support team by calling 1-844-444-2877 or using the live chat widget on their site. If you have a question, you may also find the answer you're looking for on their FAQ page.
Security and Safety
Security is especially important for sports betting platforms, as you'll need to share your private contact details as well as financial information to use these sites. For this reason, it's comforting to know BUSR has a valid SSL certificate, which means an encrypted connection is established between your browser and BUSR's servers whenever you use this platform.
Also, if you ever feel like you have a problem with gambling, you can contact BUSR to have them limit or temporarily suspend your account.
States Where BUSR Is Available
While BUSR does accept bettors from all 50 states, you should be aware that the company operates in a sort of legal gray area in the United States (more on this below).
Frequently Asked Questions
Offshore sportsbooks like BUSR are technically not allowed to operate in the United States. But these laws are aimed at operators rather than users, so it's highly unlikely you will face any legal consequences for using this platform.
+
Is BUSR a legitimate sports betting site?
BUSR has provided odds and commentary for publications such as Sports Illustrated and The New York Times, and they even work with UNLV Lee Business School to provide polling data on U.S. elections. With their high-profile partnerships, strong security, and responsive customer support, BUSR has established themselves as an especially legitimate online sportsbook despite their offshore status.
BUSR does not have a mobile app, but the website is fully responsive — that means the platform will automatically resize itself to fit the smaller screens of smartphones and tablets. To access the mobile version of BUSR, just enter the URL in the address bar of your web browser like you would on a desktop computer. You'll find that all of the features that are included with the desktop version are also available on the mobile version of this platform.
+
How do I delete a BUSR account?
There is no way to manually delete your account on BUSR, but you can contact their support team to request that they deactivate your account for you.