Even before the Supreme Court overturned PASPA in 2018, effectively legalizing online sportsbooks on the federal level, FanDuel was a massively popular platform thanks to its daily fantasy sports contests. Since the PASPA decision, FanDuel has become one of the biggest sports betting sites as well. And it's easy to see why their sportsbook is so popular, as they offer a particularly user-friendly interface, convenient payout options, and much more. Below, we'll review everything else that bettors should know about FanDuel Sportsbook.
How We Reviewed FanDuel
There are many factors to consider when evaluating a sportsbook operator. In order to come up with our overall score, we reviewed this platform's sports variety, bonuses, banking methods, user interface, customer support, and security features.
Visit FanDuel
How we score sports betting sites
Sports Variety
The best sports betting sites offer a wide variety of sporting events and games to bet on. We looked for sports betting sites that consistently have lots of options.
Score: 4.6
Bonuses and Promos
It's important that bettors understand the terms of the bonuses offered by sports betting sites. We put a premium on sites whose bonuses have clear terms and conditions, and continue to offer promotions after their initial welcome bonus.
Score: 3
Banking Methods
From online banking to cryptocurrency, bettors should be able to make deposits and withdrawals in a way that's convenient for them. We also factor payout speeds into this rating.
Score: 4.5
User Interface
Making deposits, placing bets, and cashing out should all be easy tasks to accomplish on a sports betting site's desktop and mobile app. We look for a smooth and engaging user experience.
Score: 4.8
Customer Support
Sports betting sites should offer multiple help options to their bettors, whether that's phone support, live chat, or email support. Bettors deserve to be dealing with a real person when issues with betting arise.
Score: 3.5
Security and Safety
Sports betting sites must be licensed with the appropriate regulators. We look for valid licenses and score sports betting sites on how well they protect their bettors' data.
Score: 4.7
Overall Score: 4.18

Pros and cons
In order to provide an unbiased review, we made sure to cover both the advantages and disadvantages to using this platform. The highlights are obvious — with its exceptional user interface and variety of deposit/withdrawal options, FanDuel may be the absolute most beginner-friendly online sportsbook. The only downsides are that the bonus opportunities are limited and there's no phone support
| | |
| --- | --- |
| What We Like | What We Don't Like |
| Exceptional user interface | Limited promotions available |
| Variety of sports and betting types available | No phone support |
| Easy to make deposits and cash out winnings | |
FanDuel's Sportsbook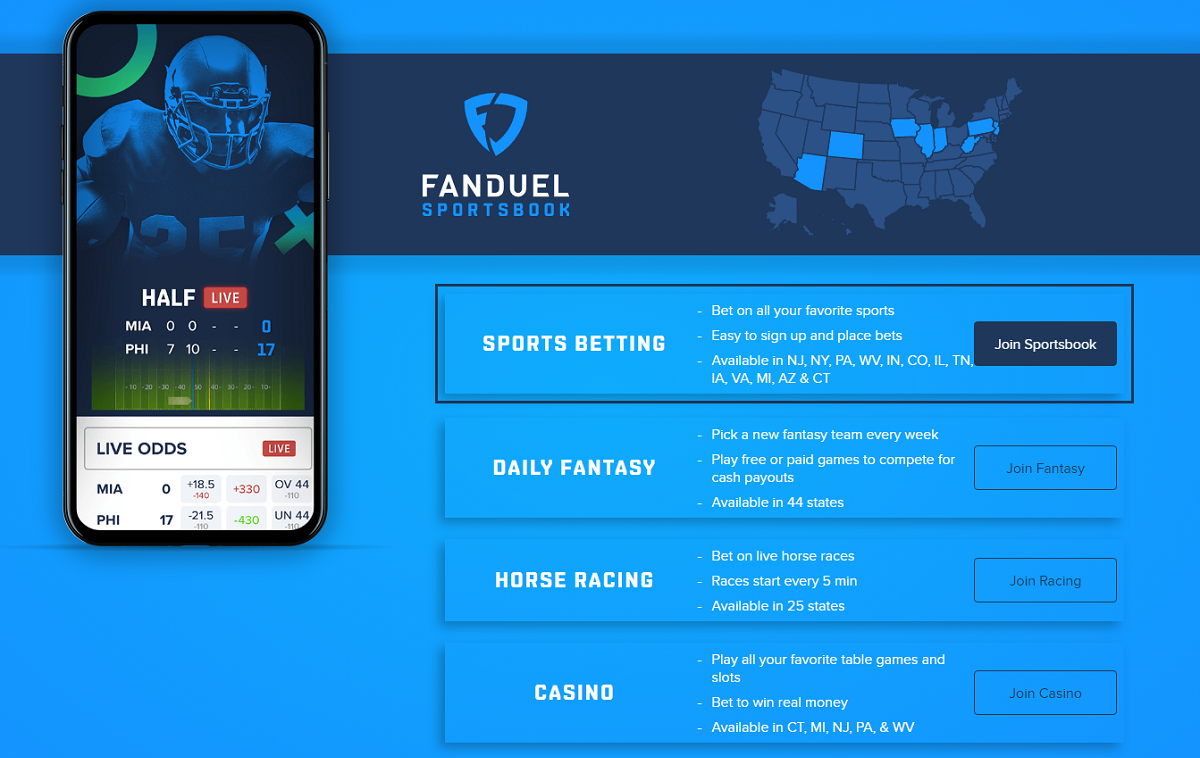 FanDuel allows you to bet on all the major American sports leagues, and they also offer more niche sports betting markets as well. Overall, your options include the following sports:
Aussie Rules Football
Baseball
Basketball
Boxing
Cricket
Cycling
Darts
Football
Golf
Handball
Ice Hockey
MMA
Motor Sports
Rugby League
Rugby Union
Snooker
Soccer
Table Tennis
Tennis
Volleyball
Live betting information
FanDuel also offers live betting markets, which can be found on the "Live now" section of their platform. For many events, they even have a video player that allows you to watch a live feed of what you're betting on embedded in the same page you use to place your wagers.
Types of bets available
This operator provides you with many different ways to bet on sporting events, such as:
Spreads: In a point spread bet, the favorite will need to win by a certain margin (the spread) for you to win your bet. For example, if the Los Angeles Rams were the favorite in a game with a spread of 10.5, they would need to win by at least 11 points for you to win the bet and double the amount of money you risked on the wager (minus operator fees). Conversely, even if the underdog in this game lost, you would win a bet that was placed on them as long as they lost by 10 or fewer points.
Moneylines: This type of bet uses a different method to account for the fact that most games feature a favorite and an underdog rather than two evenly matched opponents. Remember, in point spread bets, it doesn't matter whether you wagered on the favorite or the underdog — you'll roughly double your money if you win the bet. But with moneyline wagers, the amount you win is based on the odds, and you'll always win your bet if your team wins the game. You won't get much of a payout if you bet on the favorite, while you could win triple, quadruple, or even more of what you risked if you bet on the underdog.
Totals: Also known as over/unders, these bets involve wagering on how many points will be scored in a game rather than which team will win.
Player Props: With prop bets, you can place wagers that aren't tied to the final score or winner of a game. Prop bets that involve player performance are known as player props — for example, in a football game, you could bet on whether a particular quarterback will throw for more than 300 yards, score over 2.5 touchdowns, etc.
Game Props: There are also prop bets that don't involve individual player performance. For example, you can bet on which team will have the lead at the end of the first half of a game. Regardless of which team ends up actually winning the game, you'll win your bet as long as your team has the lead at that point in the match.
Parlays: This type of sports betting involves combining multiple wagers into a single bet. Each individual wager that is strung together in your parlay will need to hit in order for you to win — if just a single bet in your parlay fails, you won't get a single cent. The upside is that parlays offer the potential for massive payouts when everything comes together.
Sports betting limits
The betting limits on FanDuel depend on which state you're playing in. One rule that applies to every state, though, is the overall daily payout limit of $1,000,000. It's also worth noting that more niche sports, such as table tennis and volleyball, tend to have lower daily payout limits.
Bonuses and Promotions
As of this writing, there is only one active bonus available for FanDuel Sportsbook users:
Sportsbook Risk-Free $1,000. When new FanDuel Sportsbook users place their first bet on the platform, it will be absolutely risk-free. That means if you lose your bet, the amount you risked will be credited back to your account. This bonus is capped at $1,000.
FanDuel Banking Options
FanDuel makes it especially easy to make deposits and cash out your winnings. The tables below break down everything you need to know about the available banking options:
Deposit methods
Depositing Method
Minimum Limit
Maximum Limit
PayPal
$10

Massachusetts: $1,000 per 31 days

Maryland: $5,000 per 31 days

Tennessee: $2,500 per 31 days

Online Bank Transfer
$10

Massachusetts: $1,000 per 31 days

Maryland: $5,000 per 31 days

Tennessee: $2,500 per 31 days

Credit/Debit Cards
$10

Massachusetts: $1,000 per 31 days

Maryland: $5,000 per 31 days

Tennessee: $2,500 per 31 days

FanDuel Prepaid Card
$10

Massachusetts: $1,000 per 31 days

Maryland: $5,000 per 31 days

Tennessee: $2,500 per 31 days

PlayNearMe
$10

Massachusetts: $1,000 per 31 days

Maryland: $5,000 per 31 days

Tennessee: $2,500 per 31 days
Payout speeds
| | |
| --- | --- |
| Payout Method | Speed |
| Online Banking | 2 to 4 business days |
| PayPal | 48 hours |
| Check | 7 to 10 business days |
User Interface
FanDuel has more resources than most other sportsbooks (as of February 2021, they have about 1,500 employees), so it's not too surprising they have managed to build one of the most impressive online sports betting user interfaces. Overall, the platform is easy to navigate and easy on the eyes as well. Considering how much information needs to be displayed on sportsbook sites, that's not always a given.

Customer Support
FanDuel offers live chat and email options for customer support. If you have a question, though, the fastest way to find an answer may be to search through FanDuel's knowledge base rather than contacting support.
Security and Safety
Before you can cash out any winnings, FanDuel Sportsbook requires users to submit their mailing address, birthday, and social security number. To help protect your privacy, this information is encrypted and only accessed by FanDuel staff when necessary.
FanDuel also offers features to help encourage responsible betting. You can place limits on the amount of money you're able to deposit and the number of bets you can place. Also, you can freeze your account for up to 12 months if you ever feel like you need to take a break.
It's also worth mentioning that FanDuel is fully licensed in each state where they operate. State gaming boards enforce regulations regarding security and privacy, and they ensure that there is no foul play involved in online sports betting markets.
States Where FanDuel Is Available
FanDuel Sportsbook is currently available in the following states:
Arizona
Colorado
Connecticut
Illinois
Indiana
Iowa
Michigan
Mississippi
New Jersey
New York
Pennsylvania
Tennessee
Virginia
West Virginia
Frequently Asked Questions
Yes. In the states listed above, FanDuel Sportsbook is fully legal according to both federal and state law.
+
Is FanDuel a legitimate sports betting site?
FanDuel is one of the most legitimate sports betting sites available. Although their sportsbook has only been operating since 2018, they have been active as a daily fantasy sports site since 2009. Over the past 10-plus years they've been in business, FanDuel has become well known for their user-friendly platform, reliable service, and fast payouts.
+
How do I bet on FanDuel?
FanDuel makes it easy to place bets on sporting events. Once you've logged on to the platform, you'll see that there are markets available for everything from Aussie rules football to table tennis. Select the sport you are interested in to see which upcoming matches are available for wagering. In many cases, you can also bet on a match while it is in progress. Within each match, there are many different betting options available, including moneyline, point spread, and prop bets. From there, you just need to add the selections you want to make to your betslip and enter the amount you'd like to wager to submit your bet.
+
What's the difference between FanDuel and DraftKings?
FanDuel and DraftKings are both popular online sportsbooks in the United States. One significant difference between these two platforms is that you can bet on volleyball on FanDuel — this is not an option on DraftKings. Availability is another key difference, as there are currently two states (New Hampshire and Oregon) where DraftKings is the only option for online sports betting.
+
How long does FanDuel take to payout?
Payout speed on FanDuel depends on which withdrawal option you choose. The amount of time you should expect to wait before you receive your funds ranges from 48 hours for PayPal to 10 days for checks.