DraftKings has long been one of the biggest brands in the daily fantasy sports industry, and they now provide one of the most popular online sportsbooks as well. Overall, there's a lot to like about this operator — they're available in more states than any other U.S.-based sportsbook, and they also offer particularly fast payout speeds. We'll review everything else you need to know about DraftKings Sportsbook below.
How We Reviewed DraftKings
There are many factors to consider when evaluating a sportsbook operator. In order to come up with our overall score, we reviewed this platform's sports variety, bonuses, banking methods, user interface, customer support, and security features.
Visit DraftKings Sportsbook
How we score sports betting sites
Sports Variety
The best sports betting sites offer a wide variety of sporting events and games to bet on. We looked for sports betting sites that consistently have lots of options.
Score: 4.4
Bonuses and Promos
It's important that bettors understand the terms of the bonuses offered by sports betting sites. We put a premium on sites whose bonuses have clear terms and conditions, and continue to offer promotions after their initial welcome bonus.
Score: 4.7
Banking Methods
From online banking to cryptocurrency, bettors should be able to make deposits and withdrawals in a way that's convenient for them. We also factor payout speeds into this rating.
Score: 4.8
User Interface
Making deposits, placing bets, and cashing out should all be easy tasks to accomplish on a sports betting site's desktop and mobile app. We look for a smooth and engaging user experience.
Score: 4.5
Customer Support
Sports betting sites should offer multiple help options to their bettors, whether that's phone support, live chat, or email support. Bettors deserve to be dealing with a real person when issues with betting arise.
Score: 3.5
Security and Safety
Sports betting sites must be licensed with the appropriate regulators. We look for valid licenses and score sports betting sites on how well they protect their bettors' data.
Score: 4.9
Overall Score: 4.47

Pros and cons
We made sure to cover both the positives and negatives of DraftKings Sportsbook to provide you with an unbiased assessment of this operator. They may be the absolute best online sportsbook when it comes to payouts — you can receive your funds in just 24 hours through wire transfer, and they offer several other payout methods that only take about three days. One drawback, though, is that they don't offer phone support.
| | |
| --- | --- |
| What We Like | What We Don't Like |
| Available in more states than any other U.S.-based sportsbook | No phone support available |
| Fast payout speeds | |
| Strong security and safety features | |
DraftKings Sportsbook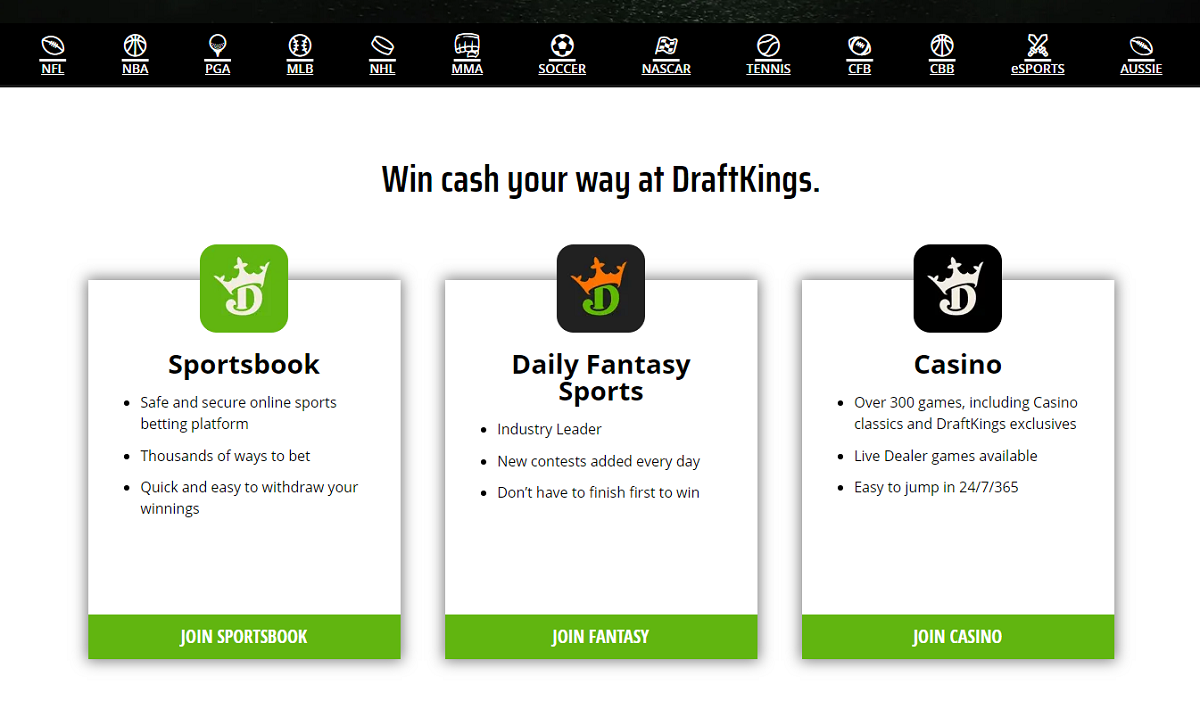 DraftKings allows you to place bets on a wide variety of different sporting events. It should be noted, though, that some of the more niche options available on a few other sportsbooks aren't available here. For example, there are betting markets for volleyball on FanDuel but not DraftKings. Overall, they allow you to bet on the following sports:
Aussie Rules Football
Baseball
Basketball
Boxing
Cricket
Cycling
Darts
Football
Golf
Handball
Hockey
Lacrosse
MMA
Motor Sports
Rugby League
Rugby Union
Snooker
Soccer
Table Tennis
Tennis
Live betting information
Live betting is available on DraftKings, which means you can place bets on games while they are still in progress. It's easy to find live betting opportunities on this platform — whether you're using your desktop or the mobile app, the live betting markets in progress are prominently displayed in both the home section and the individual sports sections.
Due to adjusting odds, there will be a slight delay between when you submit your bet and when it is confirmed. Once your live bet is confirmed, it will be settled as soon as the outcome is known.
Types of bets available
DraftKings offers many different ways to bet on sports, including:
Point Spreads: To account for the fact that most games feature a favorite and an underdog, oddsmakers will set a certain margin that the favorite needs to win by (the spread) in order for you to win your wager in this type of bet. And even if the underdog loses, you would win a bet that was placed on them as long as they lost by fewer points than the spread.
Moneylines: In a moneyline bet, if the team you wagered on wins the game, you win the bet. Moneyline bets on the underdog offer much more substantial payouts than moneyline bets on the favorite.
Over/Unders: This type of wager involves betting on the total score of a game rather than which team actually wins.
Player Props: You can also bet on the performance of an individual player rather than the entire team. For example, you could place a prop bet on a soccer player scoring at least one goal — whether or not their team wins the game, you'll win your bet as long as they score a goal.
Futures: In this type of bet, you're wagering on long-term outcomes rather than the results of a single game. For example, at the start of the NFL season, you could bet on which player will be named MVP at the end of the year.
Parlays: A parlay involves combining two or more wagers into a single bet. Each selection of your parlay will need to hit in order for you to win the bet — this makes parlays relatively risky, but they offer higher payouts to compensate for the longer odds.
Sports betting limits
The minimum bet amount for most sporting events on DraftKings is $0.10. As for maximum limits, DraftKings sets different daily winnings caps for different sports, with the most popular sports having higher caps than more niche sports. For example, depending on where you're placing your bets, the daily winnings cap for soccer may be $500,000, while the cap for tennis may be $150,000.
Bonuses and Promotions
As of this writing, there are three bonus promotions available to DraftKings Sportsbook users:
Deposit Bonus. DraftKings will match 20% of your initial deposit with this bonus, which is capped at $1,000.
Refer a Friend. For each person you refer to DraftKings, you can get a free bet of up to $100 depending on the size of their initial deposit.
Daily Free to Play Pools. You can compete against other bettors without any risk in the daily free to play pools, though the potential payouts for these contests are pretty low.
DraftKings Banking Options
Compared to their competitors, DraftKings offers a particularly wide variety of deposit/withdrawal methods to choose from:
Deposit methods
| | |
| --- | --- |
| Depositing Method | Minimum Limit |
| Online Banking | $5 |
| Visa, Mastercard, Discover | $5 |
| DraftKings Gift Card | $5 |
| Play+ Prepaid Card | $5 |
| Wire Transfer | $100 |
Payout speeds
| | |
| --- | --- |
| Payout Method | Speed |
| PayPal | 3 to 5 days |
| Check | 3 to 7 business days |
| Play+ Prepaid Card | 2 to 4 days |
| Online Banking | 3 to 5 days |
| VIP Preferred E-checks | 3 to 5 days |
| Wire Transfer | 24 to 48 hours |
User Interface
The DraftKings user interface is fairly clean and user friendly. It can be a little overwhelming to those who are new to sports betting, but anyone who's familiar with the terminology and figures associated with these markets should have no problem finding what they're looking for.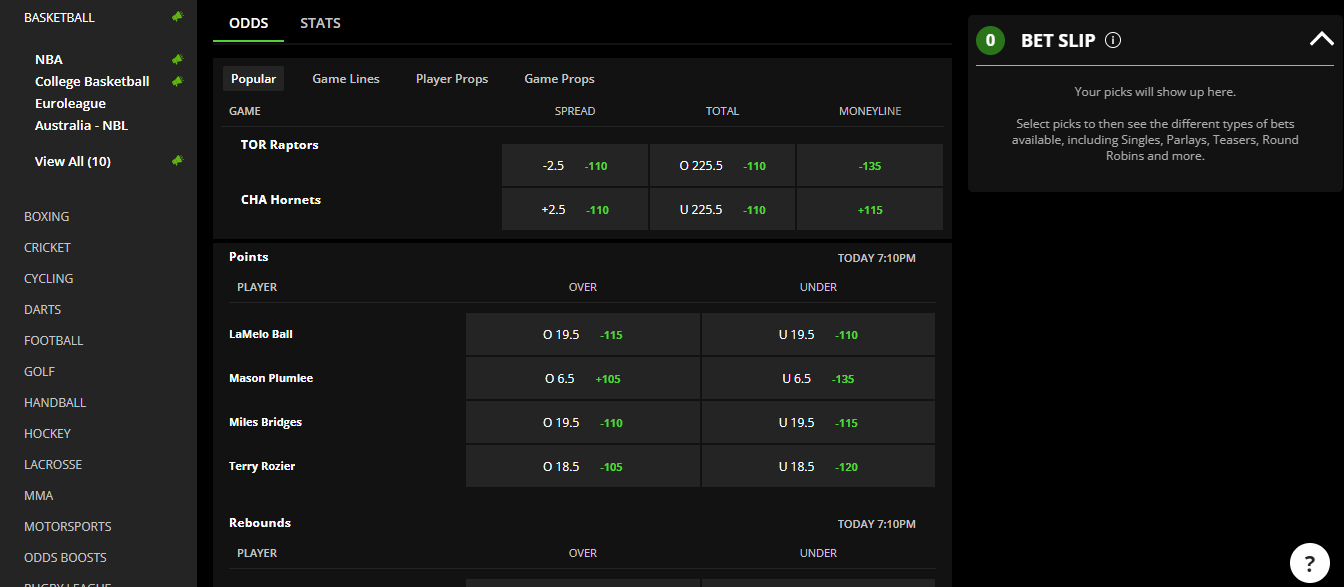 For mobile users, DraftKings Sportsbook has a dedicated app that's available for both Android and iOS devices. It should be noted that, due to Google's rules regarding gambling apps, you won't be able to download the Android version from the Google Play store. Instead, you'll need to download it directly from DraftKings.
Customer Support
DraftKings offers live chat and ticket-based customer support. As mentioned above, they would ideally offer phone support as well — this is an area in which they fall short compared to some of their competitors
Security and Safety
Security is always a primary concern when using an online sportsbook, as it is necessary to share sensitive financial information with these services to make deposits and cash out your winnings. So, it's good to know that DraftKings is safeguarded by SSL (Secure Socket Layer), which encrypts the connection between your device and their platform.
DraftKings also offers a number of features to encourage responsible betting. You can set deposit, wagering, and time limits for your account, and you also have the option to self-exclude yourself from the platform entirely.
In each state where DraftsKings operates, they have been licensed by the state's gaming board or equivalent regulatory body. These agencies ensure that there is no foul play in sports betting markets, and they help protect the funds and private information of online bettors as well.
States Where DraftKings Is Available
DraftKings Sportsbook offers slightly more availability than the other top U.S.-based sportsbooks, because a few states limit users to DraftKings for online sports bets at this time. Currently, DraftKings is available in the following states:
Arizona
Colorado
Connecticut
Illinois
Indiana
Iowa
Louisiana
Michigan
New Hampshire
New Jersey
New York
Oregon
Pennsylvania
Tennessee
Virginia
West Virginia
Wyoming
Frequently Asked Questions
Yes. Since the Supreme Court overturned PASPA in 2018, each state in the U.S. is now able to decide whether it will allow sports betting. DraftKings Sportsbook is fully legal in all the states listed above.
+
Is DraftKings a legitimate sports betting site?
DraftKings has quickly become one of the most trusted names in the online sportsbook industry. Over a million bettors use this operator each month, and DraftKings even became a publicly traded company in April 2020 — it doesn't get much more legitimate than that.
+
How do I bet on DraftKings SportsBook?
DraftKings has a user-friendly interface that makes it especially easy to place bets online. On the sportsbook homepage, you'll find every sports betting market that's available on this platform listed on the left sidebar. Choose whichever sport you want, then select the particular match that you'd like to bet on. For any given match, you'll find that there are many different betting options available, including moneylines, point spreads, and totals. You just need to add the selections you'd like to make to your betslip and enter the amount you want to wager in order to place your bet.
+
What are crowns on DraftKings Sportsbook?
Crowns are a reward system that DraftKings Sportsbook uses to encourage bettors to remain active on the platform. For every $1 you spend on parlays and $2 you spend on straight bets and futures, you'll earn one crown. These crowns can be redeemed for DK Dollars, which can then be used for placing bets rather than pulling from your account's cash balance.
+
How do I delete a DraftKings SportsBook account?
DraftKings allows you to close your account at any time. To initiate this process, contact the DraftKings support team and tell them that you would like to delete your account.