XBet offers some useful features for an online sports betting platform, including original news reports and analysis as well as a highly customizable prop builder. One drawback, though, is that the available bonuses are worth less than what many other providers offer. Below, we'll go over everything else you need to know about the pros and cons of using this sportsbook.
How We Reviewed XBet
There are many factors to consider when evaluating a sportsbook operator. In order to come up with our overall score, we reviewed this platform's sports variety, bonuses, banking methods, user interface, customer support, and security features.
How we score sports betting sites
Sports Variety
The best sports betting sites offer a wide variety of sporting events and games to bet on. We looked for sports betting sites that consistently have lots of options.
Score: 4.9
Bonuses and Promos
It's important that bettors understand the terms of the bonuses offered by sports betting sites. We put a premium on sites whose bonuses have clear terms and conditions, and continue to offer promotions after their initial welcome bonus.
Score: 3.5
Banking Methods
From online banking to cryptocurrency, bettors should be able to make deposits and withdrawals in a way that's convenient for them. We also factor payout speeds into this rating.
Score: 3
User Interface
Making deposits, placing bets, and cashing out should all be easy tasks to accomplish on a sports betting site's desktop and mobile app. We look for a smooth and engaging user experience.
Score: 4.9
Customer Support
Sports betting sites should offer multiple help options to their bettors, whether that's phone support, live chat, or email support. Bettors deserve to be dealing with a real person when issues with betting arise.
Score: 4.4
Security and Safety
Sports betting sites must be licensed with the appropriate regulators. We look for valid licenses and score sports betting sites on how well they protect their bettors' data.
Score: 3.5
Overall Score: 4.03

Pros and cons
As mentioned above, this platform features useful betting tools, as well as original news reports, picks, and predictions. But there are some significant flaws to using this sportsbook — for example, all their bonuses are capped at $500 or less. If you're planning to deposit more money than that, you should strongly consider other options that offer more generous bonuses.
| | |
| --- | --- |
| What We Like | What We Don't Like |
| Original sports news reports and analysis | Limited withdrawal options |
| Customizable prop builder tool | Limited bonus opportunities |
| Wide variety of sports betting markets available | |
XBet's Sportsbook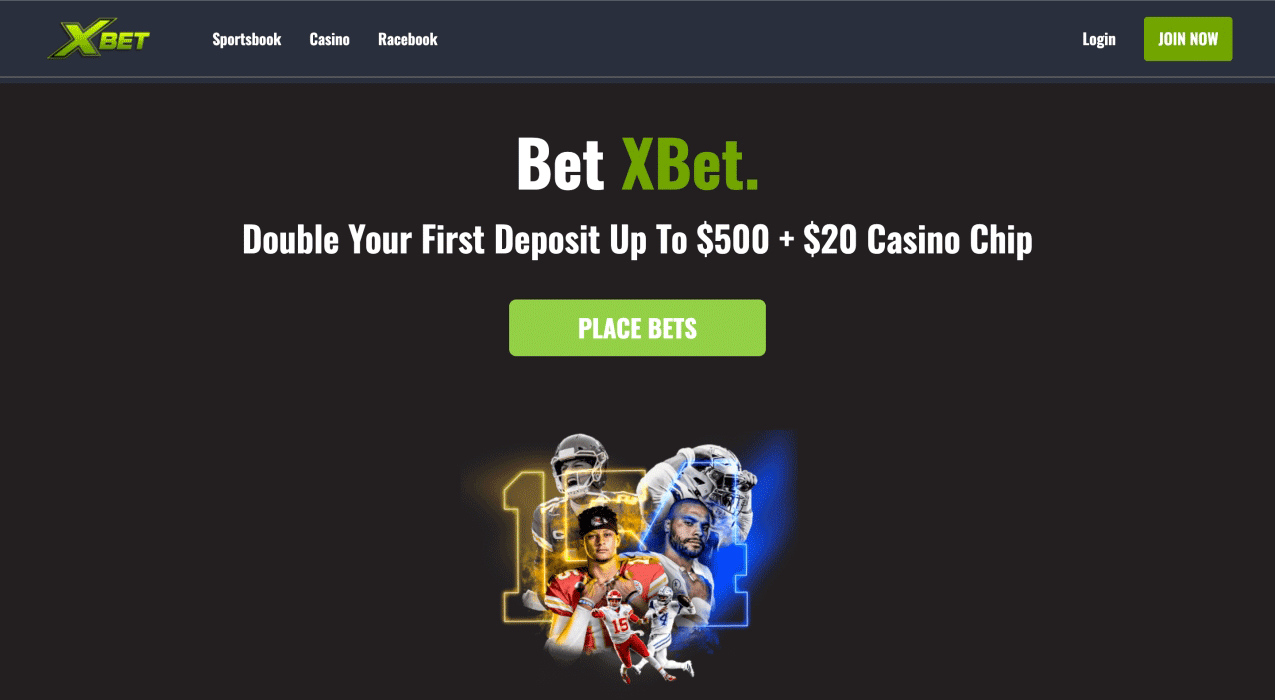 XBet offers a strong selection of sports betting markets, including popular leagues like the NFL and NBA as well as more niche options such as surfing, wrestling, and volleyball. You can wager on the following sports on XBet:
Aussie Rules Football
Boxing
CFL
Cricket
Esports
Golf
Horse Racing
MLB
MMA
Motor Sports
NBA
NCAA Baseball
NCAA Basketball
NCAA Football
NCAA Hockey
NFL
NHL
Rugby
Soccer
Surfing
Table Tennis
Tennis
Volleyball
WNBA
Wrestling
Live betting information
XBet also offers live betting, which allows you to place wagers on sporting events while they are still in progress. Usually, these markets will include overtime.
The odds for live betting are constantly changing, so most of the time you'll need to enter your selection quickly in order to successfully place your wager. Otherwise, you'll likely need to refresh the page and then consider if you still want to make the bet with the most updated lines.
Another option is to enable XBet's "auto-accept changes" feature, but you must be especially cautious with this setting — while auto-accept changes makes live betting more convenient, you may end up placing a bet with significantly different odds than what was initially displayed on your screen.
Types of bets available
You'll find there are many different methods available for placing sports wagers on XBet, including:
Spread. To account for the fact that most games feature a favorite and an underdog rather than two evenly matched opponents, oddsmakers will assign a "spread" to each game. The spread is the number of points the favorite needs to win by in order for you to win a bet that was placed on them. And even if the underdog loses, you would win a bet that was placed on them as long as they lost by fewer points than the spread. Either way, you'll roughly double the amount you risked whenever you win a point spread bet.
Moneyline. In a moneyline wager, it doesn't matter whether you placed a bet on the favorite or the underdog — if the team you bet on wins, then you win your bet. But you won't be able to win much by betting on the favorite, whereas you could potentially double, triple, or win an even larger multiple of the amount you risked by betting on the underdog.
Over/Under. Rather than betting on which team will win the game, this type of wager involves betting on how many points will be scored (over/unders are also known as "totals").
Prop. You can wager on events that aren't tied to the final outcome of a game — this is known as a proposition ("prop") bet. For example, if you were betting on a baseball game, you could place a prop bet on whether the game will go into extra innings or how many hits a particular player will have.
Parlay. This type of wager involves combining multiple selections into a single bet. Just keep in mind that each selection will need to be accurate in order for you to win anything, which makes parlays somewhat risky. They do offer the potential for massive payouts, though.
Future. You can also bet on more long-term outcomes than the results of a single game. For example, at the beginning of the NFL season you could place a wager on which team will end up winning the Super Bowl.
Sports betting limits
Most events on XBet's online platform have a wager minimum limit of $2. If you'd like to place bets over the phone, the minimum is $100. It's also worth mentioning that the maximum combined daily winnings is $100,000.
Bonuses and Promotions
Compared to other sportsbooks, XBet's bonuses are relatively limited — they only offer a few hundred dollars per bonus, while some of their competitors offer bonuses worth thousands of dollars. As of this writing, the following sportsbook promotions are available on this platform:
$500 Deposit Bonus. XBet will match 50% of your initial deposit for up to $500. You must deposit at least $45 to be eligible for this promotion. There's also a 7X rollover, which means you'll need to place a total amount of bets worth at least seven times your initial deposit before you can withdraw any winnings associated with this promotion.
$250 Reload Bonus. Every time you add more money to your account, you can have XBet match 25% of the deposit for up to $250. You must deposit at least $100 to be eligible for this promotion, and there's a 5X rollover.
$100 Referral Bonus.For every person you refer to this platform, you'll get a bonus that amounts to 100% of their initial deposit for up to $100. This promotion also has a 5X rollover.
XBet Banking Options
XBet provides you with a variety of options for making deposits. But just like other offshore sportsbooks, it's somewhat inconvenient to withdraw money unless you're comfortable with cryptocurrency. The tables below break down all the other details you should know about XBet's banking options:
Deposit methods
| | | |
| --- | --- | --- |
| Depositing Method | Minimum Limit | Maximum Limit |
| Visa, Mastercard | $45 | $2,500 |
| Bitcoin, Bitcoin Cash, Ethereum, Litecoin, Ripple | $45 | $10,000 |
| MoneyGram | $100 | $500 |
Payout speeds
| | |
| --- | --- |
| Payout Method | Speed |
| Bitcoin | 2 business days |
| E-Check | 10-15 business days |
| Bank Wire | 5-7 business days |
User Interface
XBet's user-friendly interface makes it easy to find your preferred sports betting markets and make whatever type of bet you want. They also publish original news reports and analysis on the site, which can be quite helpful for researching bets.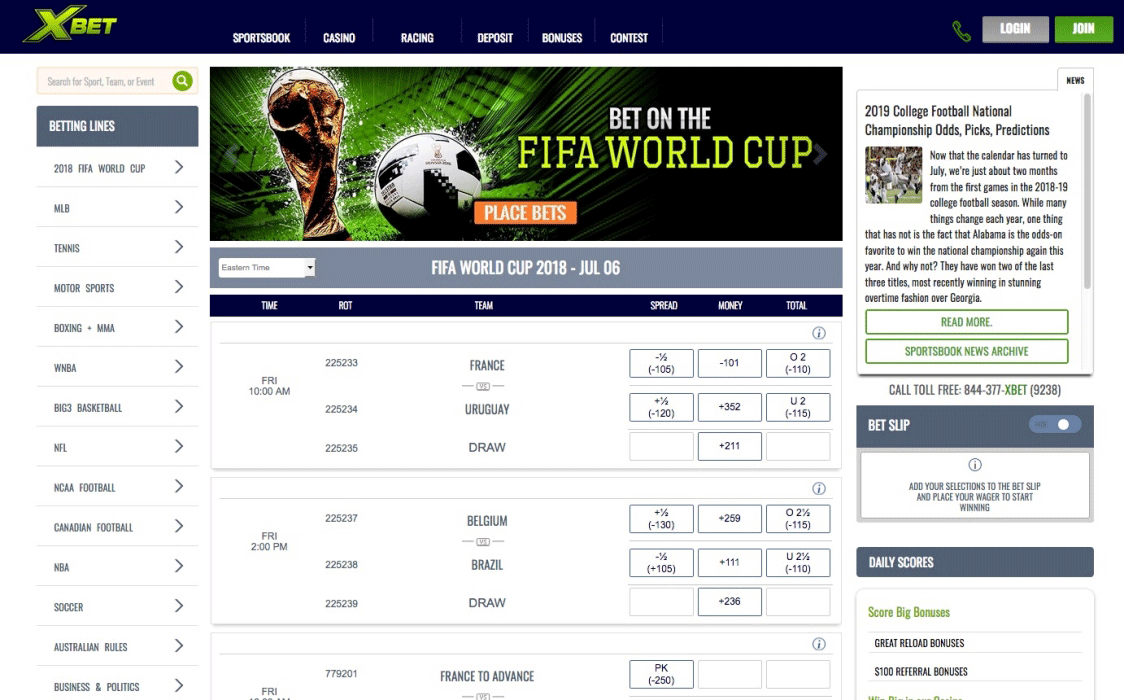 This platform's most impressive feature is its highly customizable prop builder. With this tool, you can set up many different types of prop bets, including head-to-heads (select one player to outperform another for a selected statistic) and trios (select three players to finish in an exact order, from highest to lowest, for a selected statistic).
Customer Support
XBet offers 24/7 live chat support. But whenever you have a question or run into an issue, the fastest way to find a solution may be to consult XBet's extensive knowledge base rather than contacting their support team.
Security and Safety
You can trust that this platform is secure, as it maintains secure sockets layer (SSL) certificates and 256-bit encryption. Also, in addition to your password, XBet requires users to set up a four-digit security PIN to help prevent unauthorized access.
States Where XBet Is Available
While XBet does accept bettors from all 50 states, it should be noted this provider operates in a sort of legal gray area in the U.S. — more on this below.
Frequently Asked Questions
Offshore sportsbooks like XBet are technically not allowed to operate in the U.S. But these gambling laws are aimed at providers rather than users, so it's highly unlikely you will face any legal consequences for using this sportsbook.
+
Is XBet a legitimate sports betting site?
Despite its offshore status, XBet's strong security features and responsive customer support team have made this provider a reliable option for anyone who would like to place sports bets online.
+
Are XBet and MyBookie the same company?
XBet and MyBookie have the same deposit and withdrawal methods available, and if you look at any given sporting event you'll find that they offer the exact same betting lines as well — indeed, these sportsbooks appear to be two skins of the same platform. One difference is that, as of this writing, MyBookie offers more generous bonus promotions.
Once you navigate to XBet's sportsbook, you'll see the available sports betting markets listed at the top of the page. Select a sport, and then select the particular match you would like to bet on. There are many different types of wagers available for each match, including spreads, moneylines, totals, and props. To submit your wager, all you need to do is add the selections to your betslip, enter the amount of money you'd like to risk on the wager, and then select "PLACE BET".